Seattle Locations
These are some miscellaneous Seattle locations I've invented or used that aren't in the main Seattle book.
Nightclubs
Restaurants and Bars
After
After is a private club, expensive but not too pricey, with a reputation for being snobbishly liberal. It's located several blocks from the UW. The place that looks like a bomb hit it— the dining nooks are faux craters nestled among artfully heaped rubble, and the chairs and tables all have a half-melted-but-functional look. Arcing wires and burning gas jets from "severed cables" and "broken gas pipes" provide the lighting and a scent of ozone, as do occasional staged fires in the rubble. (Appears in Harlequin.)
The Tokyo Shoe
Appears in Dunkelzahn's Secrets: a Godzilla-themed bar where all the furniture is a miniature cityscape and three walls are tridscreens showing Godzilla films. The hearth spirit has Flame Projection.
32,767 Flavors
An ice cream parlor run by a former decker, Gearhead, who ran into some black IC that scrambled part of his brain so he goes into epileptic fits whenever he uses simsense. He sunk his money into the massive apparatus that creates ice cream on the fly using liquid nitrogen; the machinery is clearly visible behind armored glass, and everyone can watch as their flavor of ice cream is created in transparent tanks.
The counter is a popular site, but the booths are the interesting attraction for shadowrunners: all of them are set up to have an excellent view of the room, and none are visible from anywhere but behind the counter (unless someone sitting at the counter turns around blatantly).
One can easily arrange for tours of the machinery— and there happens to be a nice, private meeting place hidden amongst the liquid nitrogen tanks and vats of ice cream ingredients. Gearhead has supplied a respectably secure Matrix host for virtual meetings, and comfortable chairs and a table for physical ones.
— Barry (02:13:31/04-13-55)
— Brumby (19:22:54/04-14-55)
Okeefenokee
A Bellevue restaurant inspired by the mobile "islands" of the Okeefenokee swamp, this place captures the swamp look, but not the smell. Okeefenokee was once a very large indoor ice rink, but it's been turned into a giant fish pond with floating islands moving around its surface, guided by large magnets below the bottom of the pond. Each island has at least one tree growing on it, providing a living screen to both astral and visual spies as well as a place to hang the lanterns; the islands move around in a slow, chaotic simulation of convection when they are not docking to pick up or release passengers or food, so eavesdropping is very difficult. Okeefenokee is quite expensive, and serves an international variety of cuisine (though the Cajun food there is excellent). The menus are in waterproof electronic slates that communicate with a central computer via short-haul wireless. The waiters provide breadsticks for the diners and fish food for the koi swimming around in the pond.
— Barry (02:16:44/04-13-55)
Memetic Cuisine
A rather unusual restaurant whose menu is specified by particular food ideas, with available options from different ethnicities. Dumplings, pot stickers, and gyoza are all in the same category, and are right next to piroshki, burritos, and hamburgers. If you pick a cuisine-ethnicity combination not on the menu, the chef makes something up.
— Barry (02:18:21/04-13-55)
Other Spots
The Zero Gym
An enterprising gym owner decided to fix up his flagging business by paying for a mage to lock a spell to his building that neutralizes gravity throughout the entire gym. (The spell was already invented for this sort of purpose, though the general idea was doing microgravity industry and experiment on the ground.) The gym operates sixteen hours a day, offering a chance to work out in zero gee for the overweight or those looking to pick up some unusual maneuvering skills. The exercise equipment includes such tools as concrete-filled steel drums that even a child can lift— and can provide valuable lessons in the nature of momentum. The place is designed to swiftly clean up all manner of messes, since many people lose their lunches in there.
— Exoticiser (16:34:01/04-15-55)
— Barry (22:57:39/04-15-55)
This mallplex offers unusually low prices for its well-to-do lifestyle. The catch is that all activity in the mallplex is monitored for market research: every item in every refrigerator, every minute of trideo watching, and every purchase made in or from the plex goes into the Nielsen computers for analysis.
— Barry (23:02:14/04-15-55)
Malls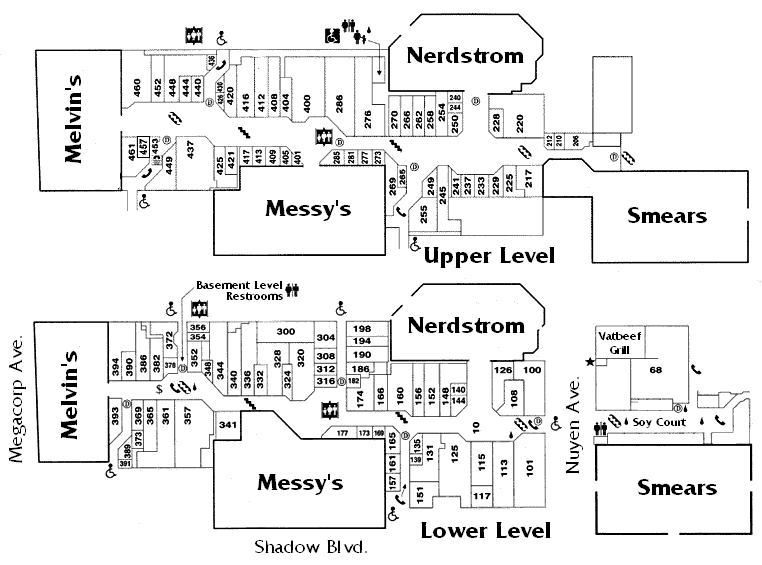 Upper level:
| | |
| --- | --- |
| Melvin's | |
| 460 | |
| 452 | |
| 448 | |
| 444 | |
| 440 | |
| 430 | |
| 426 | |
| 420 | |
| 416 | |
| 412 | |
| 408 | |
| 404 | |
| 400 | |
| 286 | |
| 278 | |
| 270 | |
| 266 | |
| 262 | |
| 258 | |
| 265 | |
| 250 | |
| 244 | |
| 240 | |
| Nerdstrom | |
| 228 | |
| 220 | |
| 212 | |
| 210 | |
| 206 | |
| | |
| --- | --- |
| Smears | |
| 217 | |
| 225 | |
| 229 | |
| 233 | |
| 237 | |
| 241 | |
| 245 | |
| 249 | |
| 255 | |
| 265 | |
| 269 | |
| 273 | |
| 277 | |
| 281 | |
| 285 | |
| Messy's | |
| 401 | |
| 405 | |
| 409 | |
| 413 | |
| 417 | |
| 421 | |
| 425 | |
| 437 | |
| 449 | |
| 453 | |
| 457 | |
| 461 | |
Lower level:
| | |
| --- | --- |
| Melvin's | |
| 394 | |
| 390 | |
| 386 | |
| 382 | |
| 372 | |
| 356 | |
| 354 | |
| 352 | |
| 348 | |
| 344 | |
| 340 | |
| 336 | |
| 332 | |
| 328 | |
| 324 | |
| 320 | |
| 316 | |
| 312 | |
| 308 | |
| 300 | |
| 198 | |
| 194 | |
| 190 | |
| 186 | |
| 182 | |
| 174 | |
| 166 | |
| 160 | |
| 156 | |
| 152 | |
| 148 | |
| 144 | |
| 140 | |
| Nerdstrom | |
| 126 | |
| 108 | |
| 100 | |
| | |
| --- | --- |
| Smears | |
| 101 | |
| 113 | |
| 115 | |
| 117 | |
| 126 | |
| 131 | |
| 135 | |
| 139 | |
| 151 | |
| 157 | |
| 161 | |
| 165 | |
| 169 | |
| 173 | |
| 177 | |
| Messy's | |
| 341 | |
| 357 | |
| 361 | |
| 365 | |
| 369 | |
| 373 | |
| 389 | |
| 391 | |
| 393 | |